An event2018.11.26
Announcement of advance sales for the `` alive 2018 '' event for creators and advance recruitment by recruiting companies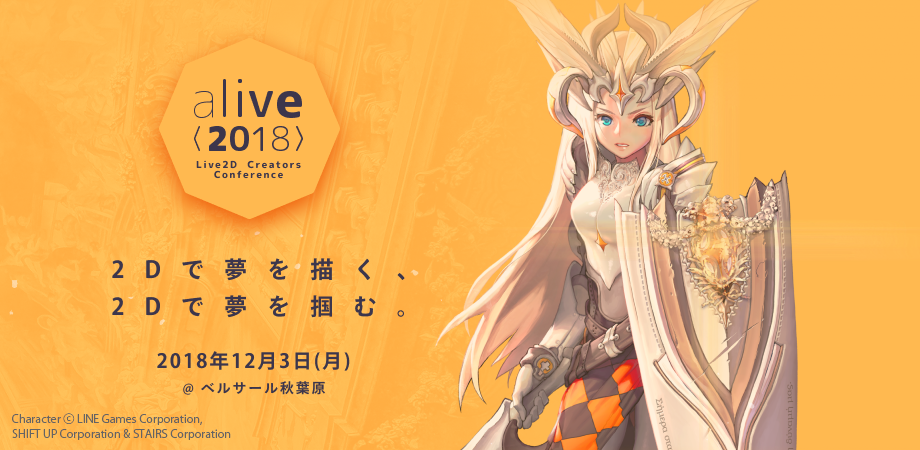 ▼ Event overview and highlights
"Alive 2018" is a large-scale event once a year where creators involved in 2D graphic expression gather and share their technology and passion.
On the day of the event, Live2D will present the latest software information, and industry companies will hold sessions and exhibitions.
Tickets for this alive 2018 were released by 11/19 (Monday) 23:59, but we received many inquiries after the deadline, and this time we added seats at the session venue and extended the ticket release period. Has been decided.
The new ticket purchase deadline is until 11/30 (Friday) 23:59.
In addition, as a "job fair" at the venue, there is also an area where individual recruitment consultations are made by the following 6 companies seeking recruitment by creators.
You can check the recruitment contents of each company from the special event site of "alive 2018".
alive 2018 special site `` job fair ''
Recruitment companies list
f4samurai, Inc.
Craft Egg Inc.
Somezap Corporation
G-Crest Co., Ltd.
Happy Elements K.K
Live2D Inc.
In addition, some companies have started accepting applications for advance recruitment.
The companies that accept advance application from the event special site are as follows.
List of companies that accept pre-employment applications
There are various job opportunities for each company, so if you are interested, please join us.
For more detailed information about the event Special event site You can check from.
▼ Event participation qualification
Anyone interested in Live2D can participate.
(Any professionals can participate. Anyone from the industry, creators, inexperienced, beginners, skilled people, programmers, etc. are welcome.)
▼ Outline
Venue: Bellsalle Akihabara 1F, 2F
Date: Monday, December 3, 2018
Time: 11: 00-18: 10 (Reception starts: 10: 00-)
Social gathering: 18: 30-20: 30
Capacity: Approximately 600
▼ Ticket price / type
Session attendance ticket (no social gathering): ¥ 1,000
Session attendance ticket with social gathering: ¥ 4,000
▼ Application deadline
Until 11/19 (Monday) 23:59
Until 11/30 (Friday) 23:59
(The period has been extended from the initial announcement)
(First-come-first-served basis. Ends when sold out)
▼ Notes
* Please check each site for details of the event and ticket application.
* Tickets are accepted on a first-come-first-served basis. Sales will end when the capacity is reached. Please purchase as soon as possible.