An event2019.11.06
2D creators festival "alive 2019" will be held! This year's theme is "A place to find dreams"
Live2D Co., Ltd. will hold a large event for creators, "alive 2019" on November 25th (Monday), 2019 at BelleSalle Kanda.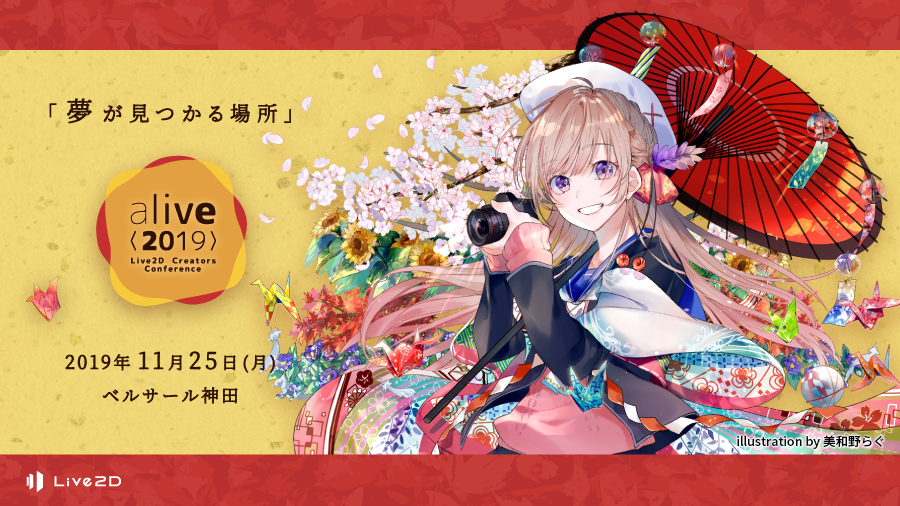 Event summary
"Alive 2019" is a large-scale event once a year where creators involved in 2D graphic expression gather and share their technology and passion.
In addition to the latest information released by Live2D, the event will feature a variety of content, such as sessions by popular companies and individual creators who are active in freelance.
Please join us.
The highlight of the event
Acquire new technologies and knowledge by sharing many know-how through sessions and exhibitions!
There is an employment interview area that encourages matching between companies, creators and students!
Inexperienced people can participate with confidence at beginners' seminars equipped with PCs!
Those with the same skills gather to find friends!
Eligibility
Anyone interested in Live2D can participate.
(Any professionals can participate. Anyone from the industry, creators, inexperienced, beginners, experts, programmers, etc. are welcome.)
Outline
Venue: Bellsalle Kanda 2F, 3F
Date: Monday, November 25, 2019
Time: 11: 00-18: 30 (Reception starts: 10: 00-)
Social gathering: 18: 30-20: 30
Capacity: Approximately 750
Ticket price / type
Session attendance ticket (no social gathering): ¥ 1,000
Session attendance ticket with social gathering: ¥ 4,000
Application deadline
11/10 (Sunday) until 23:59
(First-come-first-served basis. Ends when sold out)
Notes
* Please check the following website for details of the event and ticket application.
* Tickets are accepted on a first-come-first-served basis. Sales will end when the capacity is reached. Please purchase as soon as possible.