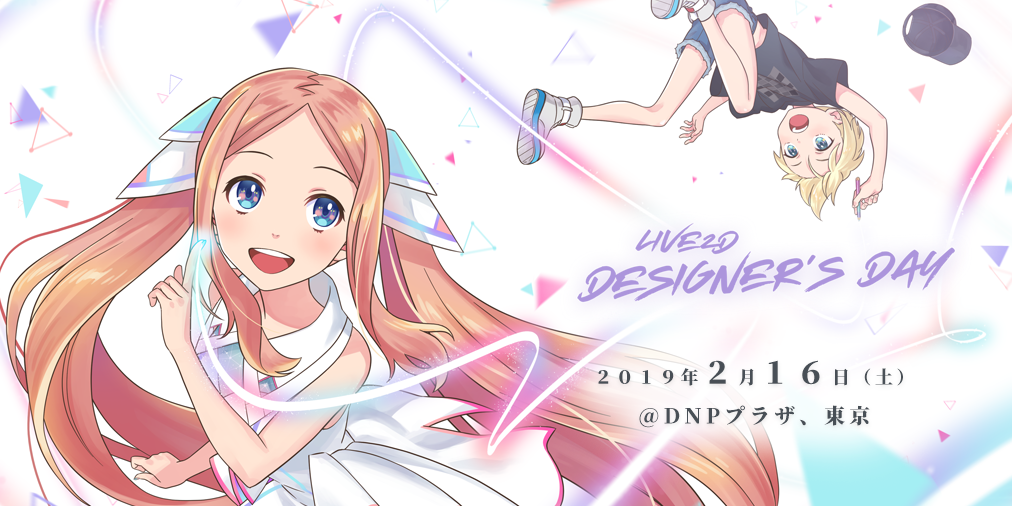 An event for Live2D designers "Live2D Designer's Day" will be held at DNP Plaza on Saturday, February 16, 2019.
Live2D Designer's Day special site
▼ Event overview and highlights
~ Beyond creation ~
"Live2D Designer's Day" is an event for those who aim to become Live2D designers and designers by Live2D Creative Studio.
At this event, the live short animation "Beyond Creation" planned and produced by Live2D Creative Studio, a session introducing the know-how in Live2D production, the course introduction of FUN'S PROJECT COLLEGE where you can learn Live2D online, Live2D production and Cubism Editor We will also hold a "Live2D Consultation Office" where you can talk directly with the Live2D Creative Studio staff and questions about employment opportunities for those interested in working in Live2D Creative Studio.
Live2D will make a full-fledged challenge for the movie, so please experience this possibility at this event.
There will also be a social gathering for both professionals and amateurs after the session.
Please participate at this opportunity!
▼ Venue / Date
Venue: DNP Plaza 2F Event Zone <Google Map>
Date: February 16, 2019 (Saturday)
Time: Live2D Designer's Day 13: 00-18: 00 (Reception starts: 12: 30-)
Social gathering: 18: 00-20: 00
Capacity:80 people100 (Increased January 23, 2019!)
▼ Organizer
▼ Co-host

▼ Ticket price / type
Free participation ticket (no social gathering): Free
Paid participation ticket (with social gathering): ¥ 3,500
▼ Application deadline
January 31, 2019 (Thursday) 23:59
▼ Notes
* Please purchase a ticket for each participant.
* Each ticket will be sold out on a first-come, first-served basis, even if it is sold out.
* If the e-mail address registered at the time of application is set to receive restrictions, please set so that you can receive e-mails from "@ peatix.com".
* This event is for designers, but anyone who is interested in Live2D can participate regardless of professional, amateur, or occupation.
Live2D Designer's Day special site