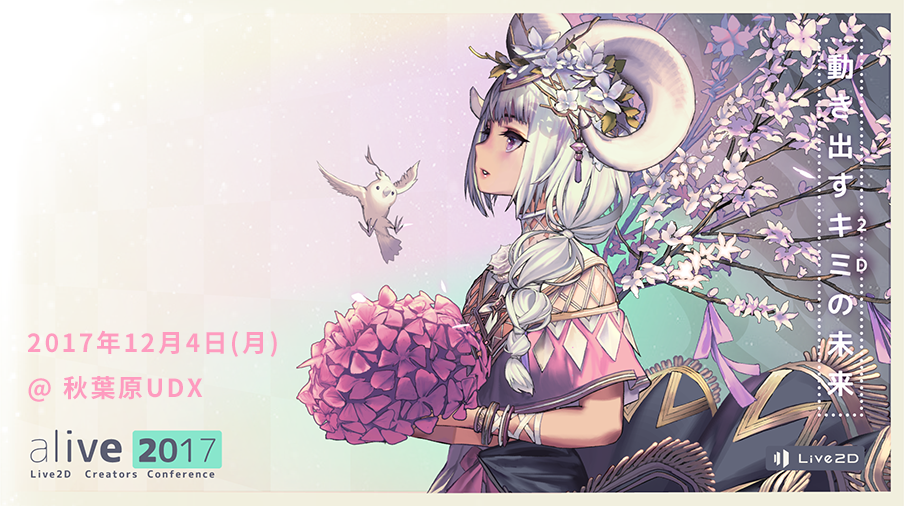 Live2D Co., Ltd. will hold the event "alive 2017" on December 4, 2017. In response to the large number of applications for this event, the number of participants will be increased from 300 to 350, and a secondary recruitment will be started today. Secondary recruitment is on a first-come-first-served basis.
▼ Event overview and highlights
"Alive2017" is a large-scale event once a year that conveys various information related to the "Live2D" software that moves illustrations.
On the day of the event, Live2D will hold up-to-date information on software, and sessions will be held by companies that have adopted Live2D (apps, games, videos).
If you are interested in working with Live2D, there are also opportunities for job opportunities related to Live2D and simple interviews at the venue.
▼ Eligibility for participation
Anyone interested in Live2D can participate.
(Any professionals can participate. Anyone in the industry, creators, inexperienced, beginners, skilled people are welcome)
▼ Start accepting applications for secondary recruitment
In response to favorable reception at the time of the first recruitment, we decided to increase the number of seats.
As a secondary recruitment, we will begin accepting applications for additional seats from 18:00 on Monday, November 20th.
▼ Outline
Venue: Akihabara UDX GALLERY & UDX GALLERY NEXT 2
Date: Monday, December 4, 2017
Time: alive2017 10: 30-18: 30 (Reception starts: 10: 00-)
Social gathering 18: 30〜20: 30
Capacity: Approximately 350 (increased approximately 50 seats from 300 at the first recruitment)
▼ Ticket price / type
・ Alive2017 participation ticket (no social gathering): ¥ 1,000
・ Participation ticket for alive2017 with a social gathering (Number of sales: 150 limited): ¥ 3,500
▼ Application deadline
Until 11/26 (Sunday) 23:59,
(First-come-first-served basis. Ends when sold out)
▼ Notes
* Please check the following website for details of the event and ticket application.
* Secondary applications are accepted on a first-come-first-served basis. Sales will end when the capacity is reached.