An event2019.02.22
Announcement of Beyond Creation Public Commemoration Follow & Retweet Gift Campaign
Signed scripts by Haruka Tomatsu & Natsumi Fujiwara! "Beyond Creation" release commemorative follow-up & retweet campaign starts! !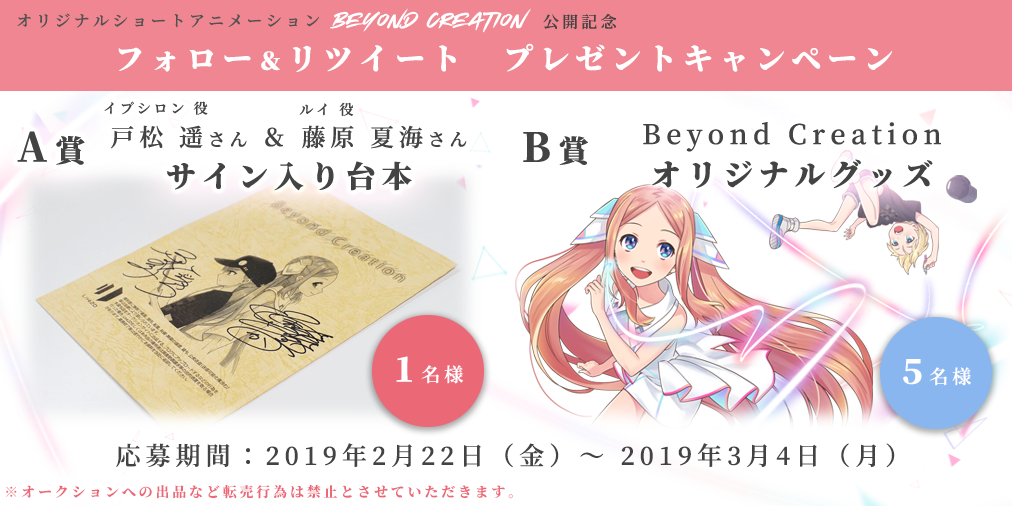 Receive a script or original goods signed by a voice actor!
In commemoration of the release of the original short animation "Beyond Creation" made with the full-length Live2D, a campaign will be held to present a signed autographed voice actor to one person by lottery and original goods for five people by lottery. .
Prize
Appearance voice actor Haruka Tomatsu, Natsumi Fujiwara Signed colored paper: 1 person
Beyond Creation original goods: 5 people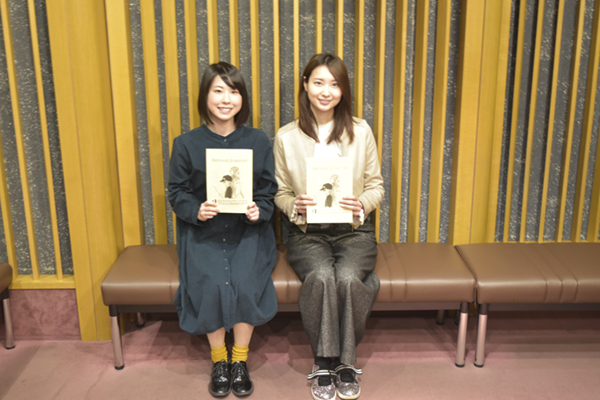 Mr. Natsumi Fujiwara as Louis and Haruka Tomatsu as Epsilon
What is "Beyond Creation"
For details on "Beyond Creation" Here
Main story ↓
How to enter
Step 1
Live2D Creative Studio official Twitter account that created this animation on Twitter ( @ live2dcs Follow).
Live2D Creative Studio official Twitter page: https://twitter.com/live2dcs
Step 2
Retweet the target tweet.
https://twitter.com/live2dcs/status/1098888423455125505
Winners will be contacted by direct message on Twitter from Live2D official account.
Target period
Monday, March 4, 2019 until 23:59
Winning announcement
Around late March 2019 (planned)
The winners will be selected from the participants, and the winners will be contacted via Twitter's direct message function via Live2D Creative Studio official Twitter account.
Notes
Those who are already following Live2D Creative Studio's official Twitter account can participate in STEP2 only.
Either step 1 or step 2 can be done first, but you must do both.
For retweets, please use the official retweet function. Quoted tweets are not eligible.
Private Twitter accounts will not be eligible for entry since we cannot confirm your retweet and follow.
You will not be eligible if your Twitter account is set to reject direct message from us.
This campaign is limited to those who live in Japan. Please note.
If you do not reply to the direct message informing you of the prize, your prize will be cancelled.
You cannot transfer the winning rights to a third party.
This does not apply if your account has been deleted at the time of winning or if you have not been followed up.